Latest Updates from Reality Kings (Page 47)


I spotted this slender dark-haired Latina beauty, Jasmine Vega, waiting for the bus in nothing a but shorts and a bikini top. She was angry that I approached her at first, but only because her boyfriend had ditched her day at the beach to go drinking with some buddies and now she was trying to catch up. I offered her a ride (no ulterior motives, I promise) and she accepted, thinking it would make her boyfriend jealous. We went to my place to grab the car, but naughty Jasmine wanted to take an extra long time to fuel her boyfriend's suspicions… so she dropped her bikini top, showed me her pretty pert titties, and then sat her sexy pussy down on my face. I licked her slit and then she rode my cock, then we decided it would make her boyfriend really jealous if we showed him what she looked like with my great big cumload on her face!
Bookish ivy league preppy Sloan Harper might be loaded, but after a fight with her sugar daddy, this busty blonde is going to have to find another source of income if she wants to keep up her lavish lifestyle. Luckily Kyle Mason has cash in hand and a generous di – uh, heart. Big-titted Sloan might seem standoffish, but nothing turns this daddy's girl on like cold hard green: she surprised Kyle by offering to give him a handjob… for $300! But Kyle made little-miss-perfect earn her keep with a sloppy blowjob and hardcore sex at his grungy apartment. Then Sloan asked Kyle to fuck her like a cheap whore in her miniskirt and glasses as she bent over for a doggystyle pounding. Sloan did such a good job backing her pretty pussy up onto Kyle's cock that he even gave her a tip: a face full of cum she'll never forget.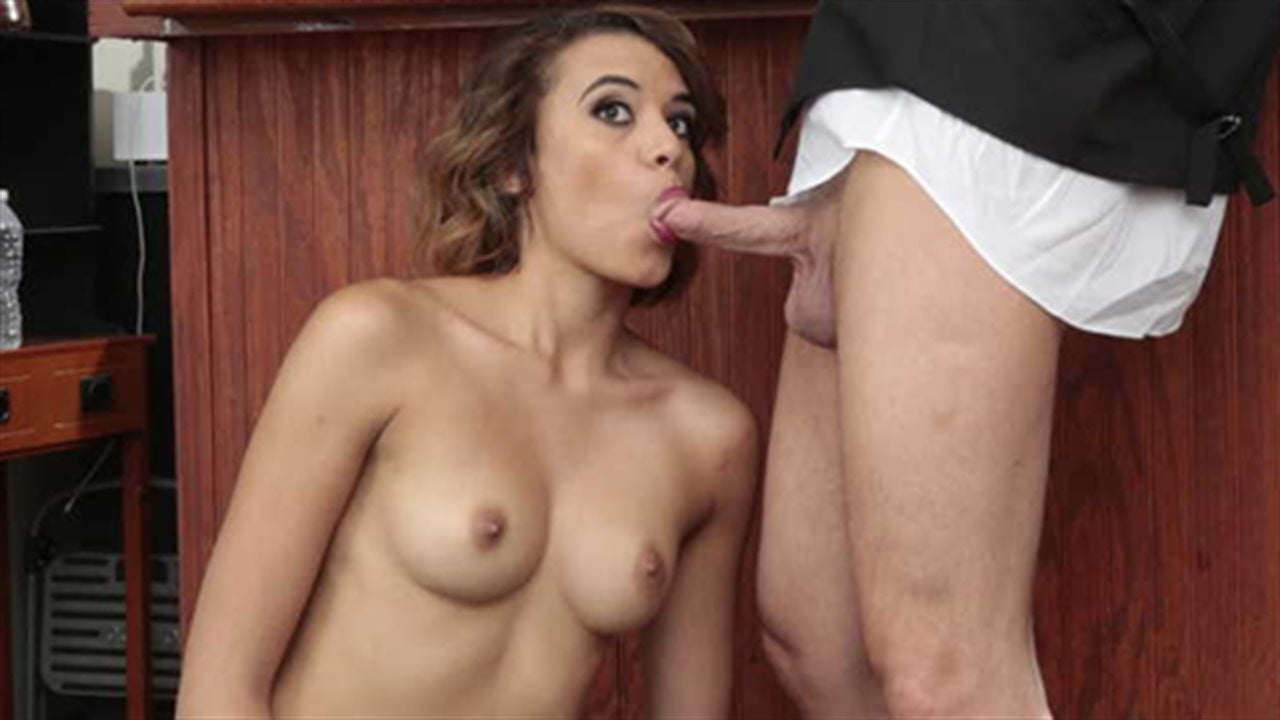 Seth Gamble is hired to help Eve Ellwood bartend a huge party. The only problem is that Eve is horny and she would rather fuck than work! In fact, Eve won't let anything stand in the way of getting Seth's big cock in her mouth, not even the presence of the event organizer! She makes her intentions very clear by taking every chance she gets to seduce Seth! When the event organizer leaves them alone to take an important call, Eve sits on the bar and masturbates, begging Seth to lend her a helping hand… which he's more than happy to provide! Then, after Seth fingers her juicy wet pussy, Eve sneaks under the bar and wraps her lips around Seth's big erect cock. Seth tries his best to not be too distracted by Eve's sneaky cock-sucking skills while the event organizer is talking to him! Then, when their boss leaves to go run an errand, the hot slut finally gets the deep dicking she's been craving!