Latest Updates from Reality Kings (Page 61)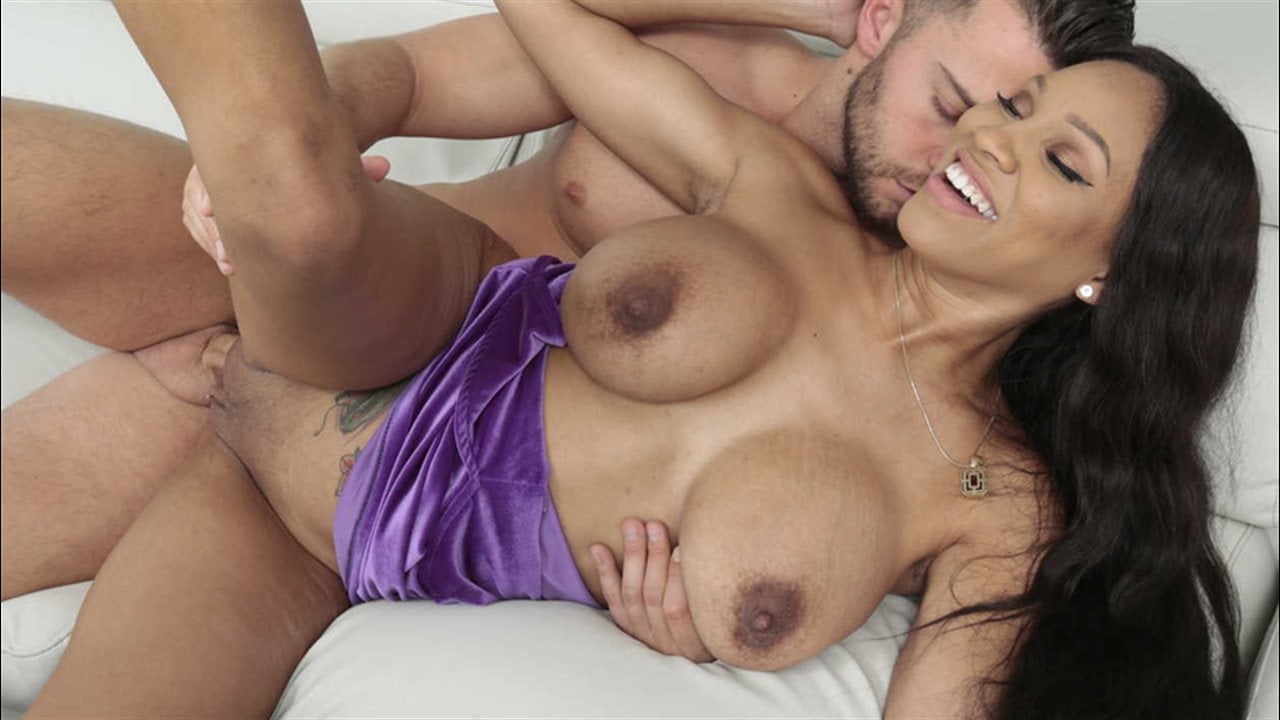 Seth and his roommate are getting ready to go to a party. They're looking for Seth's keys while waiting for Yello, the roommate's girlfriend, to be ready. When Yello finally joins them, she's wearing a tiny skimpy dress. Of course, Seth thinks she is smoking hot, but Yello's boyfriend thinks she looks too slutty and goes looking for a better dress for her to wear. While waiting for her boyfriend to come back, Yello helps Seth look for his keys, teasing her big round ass in the process! She also reveals that her boyfriend doesn't know how to satisfy her sexually so, when Seth notices she is not wearing panties, he takes this as an invitation to lick her dripping wet pussy! The busty ebony slut then sucks Seth's big hard cock and they sneakily start fucking on the couch! Will they manage to fuck each other's brains out before Yello's boyfriend comes back?
Victoria June is fed up of her good-for-nothing husband cheating on her! She fully intents on taking advantage of a Halloween party to get a much needed revenge fuck! She gets ready by slipping on a tight form-fitting dress that highlights her big tits and perfect ass and completes her look with a wig and mask to conceal her identity. Once she arrives at the party, she catches the eyes of a masked stranger. The hot Latina teases the mysterious man from across the room and he follows her back to a quiet area. Then, the man immediately pushes Victoria against a wall and lifts her skirt to lick her dripping wet pussy! Victoria then puts her luscious cock-sucking lips to good use and deepthroats the masked stranger! Then, they fuck each other's brains out, all while keeping their masks on, of course! After all, nothing say revenge fuck like good sweaty anonymous sex!
Meet Amy Parks, a 22-year old Asian beauty from Boston who is just getting started in the industry! Can you believe she's only been with five guys?! Neither could we and we're more than happy to help her increase her "cock count"! As she stroked her tight wet pussy, she revealed a few fun facts about her: she fantasizes about being tied up, likes facial, never had anal before and she likes big dicks! She also wants to get better at deepthroating, so we introduced her to Tyler Steel! After testing her cock-sucking skills, he fucked her like she's never been fucked before covering her pretty face with his man juice! We're happy she chose us to get started in the world of adult entertainment and we can already foresee a bright future for her in the industry!