Latest updates featuring Arie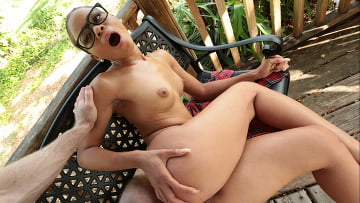 18th February
- I caught this little badass Arie about to light up a cigarette and trying to sneak a beer in the park. She was off in a daydream, unbuttoning her dres
s and touching herself everywhere through her lace bra and panties. When she noticed me she was so startled she threw her bottle away. I knew I couldn't let her get away with littering and being so naughty without consequences, so I confronted her about her bad behavior. This silly girl seriously thought I was a cop… she was so mad when she found out, but I knew a way to make it up to her: she could suck on something healthier and make some cash doing it. She ended up being a slutty little freak, letting me facefuck her in her headphones and glasses. We screwed around in public, and I found out she has the tightest pussy imaginable. And after, I made a sticky mess out of her glasses!
...Read More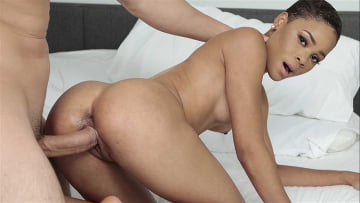 3rd February
- Arie is moving to a new apartment and asked for the help of her friend Jmac. While her helpful friend is busy moving boxes out of her room, the hot eb
ony notices a box caught under the bed. She tries to reach for it but has trouble pulling it out. Jmac to the rescue! But first, he takes the time to enjoy the perfect view of Arie's butt shaking around. Jmac can't help but play with her tight ass as he pulls out the box! Then, Arie backs up into Jmac and gets a feel of his boner! The ebony slut can't resist pulling down Jmac's pants to get a good view of his big hard cock and wraps her perfect lips around it! Of course, her pussy gets dripping wet and Jmac makes sure to get a taste of it before fucking her brains out!
...Read More