Latest updates featuring Bonnie Grey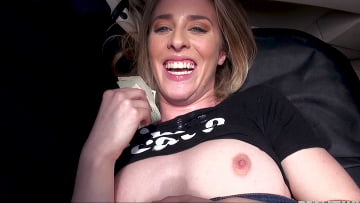 29th July
- After getting ditched by her boyfriend, blonde babe Bonnie Grey isn't about to get into some stranger's car. But Tyler Steel refuses to let this hot s
lut just sit on the site of the road, so he offers up a ride - with a catch. Tyler figures this distraught cutie can get a ride and get back at her ex-boyfriend at the same time! Whipping out his thick dick gets Bonnie on board, wrapping her juicy lips around the head of his cock and working her way up and down every inch! Lying on her back in the backseat of the car, Tyler stretches out her tight little pussy, pounding it until she's taking a thick load all over her perky tits and pretty face!
...Read More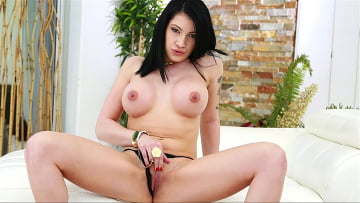 19th July
- Bonnie Grey had a nervous breakdown after Levi, the MILF hunter, dumped her for a mature experienced mom. Bonnie took all of the clothing that Levi ha
d at her house and tossed them into a bonfire. She also threw in a portrait of his that use to sit by her nightstand. Bonnie cursed the day that he seduced and fucked her like no other has. Cassandra, the sexy stepmom, overheard Bonnie crying and went to see what was going on. She noticed Bonnie's fragile emotional state and persuaded her to go inside to talk it over. Soon after consoling her, Cassandra went tongue deep in Bonnie's wet pussy and tight little asshole which made her temporarily forget about Levi.
...Read More
>> CLICK HERE TO DOWNLOAD <<
14th September
- Bonnie is usually one to put up a fight, but when it comes to dick sucking she always agrees. She will nod her head on your dick as if you just asked
her all the right questions. That dark throat of hers stays extra moist when theres a cock in it, making it easy to go as deep as you can take it. If she can tell you are about to cum she will start to jerk you off. She wants that jizz and she wants it NOW. If you cum in her mouth and on her face she might just bake you some cookies after. Who doesnt want cookies after a fire BJ? This girl is BAE.
...Read More
23rd August
- Bonnie Grey experiences her first anal scene in a porno.
22nd August
- Bonnie was noticeably nervous for her first porn shoot, but starting getting more and more comfortable with each item of clothing that was taken off.
Shes 19 with a plump booty and a pink pussy. First time castings cant get much better than that! As she plays with her squishy twat, Bonnie reveals to us a very interesting fact. She just had her first orgasm ever only a few months ago thanks to a hitachi. Boy has she been missing out. Bonnie has obviously never had any good dick. Good thing our producer was there to supply it. Slamming his cock down her throat and mangling her pussy up was the bulk of this shoot, watching Bonnie react with every movement was quite enjoyable. She even was down to slurp up his semen after he busted, isnt she courteous? She might just get booked again, but in reality thats all up to YOU! Tell us what you think :).
...Read More