Latest updates featuring Bria Marie
Before they went on their girls-night-out, Bria and Bethany were hanging-out. They were both wearing stunning outfits for the evening. Bethany's spandex outfit nicely showed off her curves, but it was nothing like Bria's. She was wearing a leather skirt that had a nice big gap in the back big enough to allow her entire huge perfect ass to be exposed. Bethany had to explore this gap before they left to see what treasures it held. The two started to get it on when Tony stopped by. His appearance was a welcome addition to put a dick in the mix. Tony was in ass heaven and did his best to get as much of it as he could.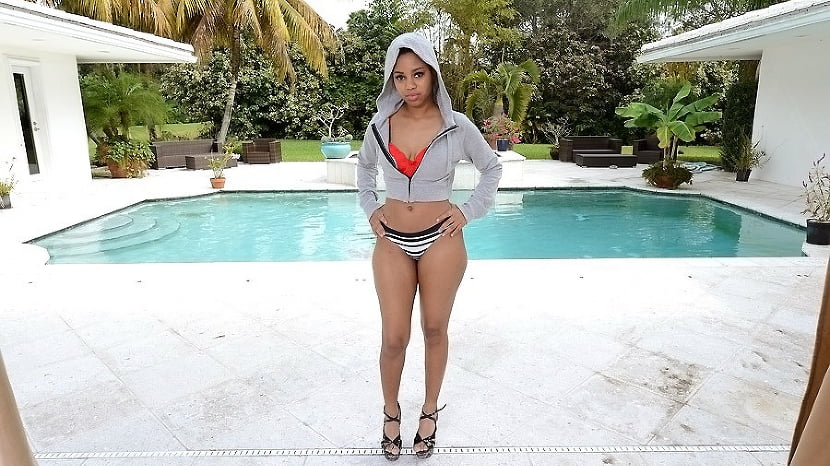 Few come close, but none can match Bria's natural booty. Aside from being an extremely intelligent woman with a beautiful face and perky tits, Bria can take any man to the hoop. She completely obliterated Tony during a one-on-one basketball game. He was no match for her jumpshot. Tony claimed he was distracted by Bria's nice firm ass, and we seriously think anyone with a pulse would be too. After a humiliating loss, Tony picked up his cam, and we got to see Bria transform from B-ball phenom to sexy vixen. She made love to the camera with her booty. Bria bounced, squeezed and dropped her donk, and it was a spectacular sight. When she was done teasing, Bria went indoors where Levi was waiting for her with his hard cock in hand. Levi oiled up her booty and went in balls deep. He stroked her tight bald beaver in multiple positions and angles. He then blasted his load all over Bria's pretty face.