Latest updates featuring Callie Calypso

I think the ladies felt real comfortable at the this new hot spot, or maybe they were just really fucking horny. Knowing our crew, they were in fact really horny. They were on a mission to fuck one another and most of them did just that. It was an all out buffet of hot ass with a side of cock and balls. They didn't even get undressed, and they were 69ing each other. Once Jmac saw this, he just pulled his cock out and pointed it at the nearest girl. It was game on at that point. Within minutes, it was an all out orgy. Legs were getting tossed in the air, as pussies got spread wide open. The few girls that weren't hungry for the buffet settled for tits bouncing and ass shaking, but they were still making the party just as live. At one point, the girls were on all fours in a row with their booties pushed up for Jmac to dive deep inside them. One by one, he filled them up. As they got their fill and orgasmed, he moved on from one girl to the next. Jmac fucked one girl so good, she released a nice squirt of excitement that only made this party even better. Jmac got his chance to return the stream of cum on the ladies too. There's really nothing like a group of chicks kneeling before you waiting for your to jizz all over them.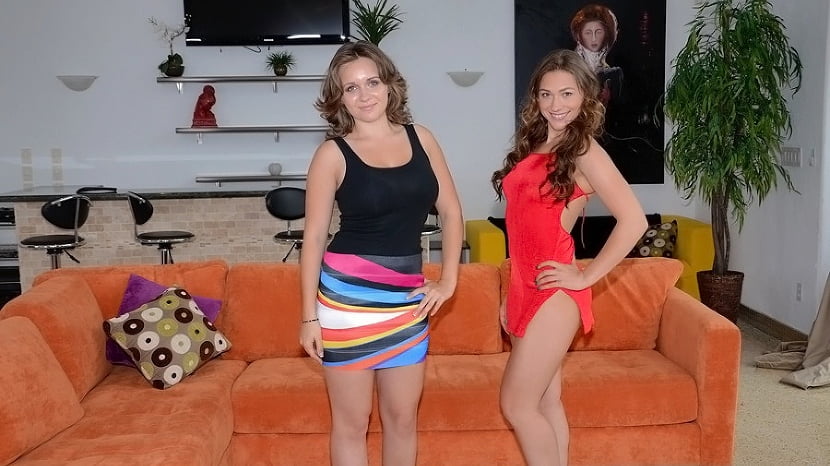 Chrissy and Callie, two fun loving girls, are hanging out with Tony. While waiting for Jmac to return from the store with some party favors the girls get to know each other a little better. They show off what they got, two big beautiful asses and four luscious tits. They start licking each others pussies to reveal Chrissys hairy bush and Callies shaved and scrumptious delight. Jmac sneaks in while the two are going at it. Its Callies first time having anal sex, so with the toys Jmac brings the girls soon have dildos in their asses. Before long a two girl bj starts and is followed by plenty of sex. Chrissy starts it off, taking it in her pussy while Callie licks around. Then Callie breaks her anal cherry while Chrissy masturbates. Jmac eventually explodes all over Callies ass and Chrissys face and tits.