Latest updates featuring Evelin Stone


Brad and his girlfriend Evelin are watching a movie. He is super horny, but Evelin is worried that Alena, her new stepmom, is going to catch them in the act, so she suggests they only make out instead. Little does she knows that Alena is equally as horny! In fact, the MILF is so horny that she starts masturbating while spying on the teens. Then, Alena sneaks into the living room and changes the movie they're watching for a porn film! She then pulls off the blanket the teens are using, revealing Brad's big hard dick, which she immediately starts sucking. Of course, lucky Brad has no problem with this sudden turn of events, but Evelin intends to show her stepmom she is better than her at sucking cocks! A competition ensues and results in both the teen and stepmom fighting over who will get to suck and fuck Brad's cock!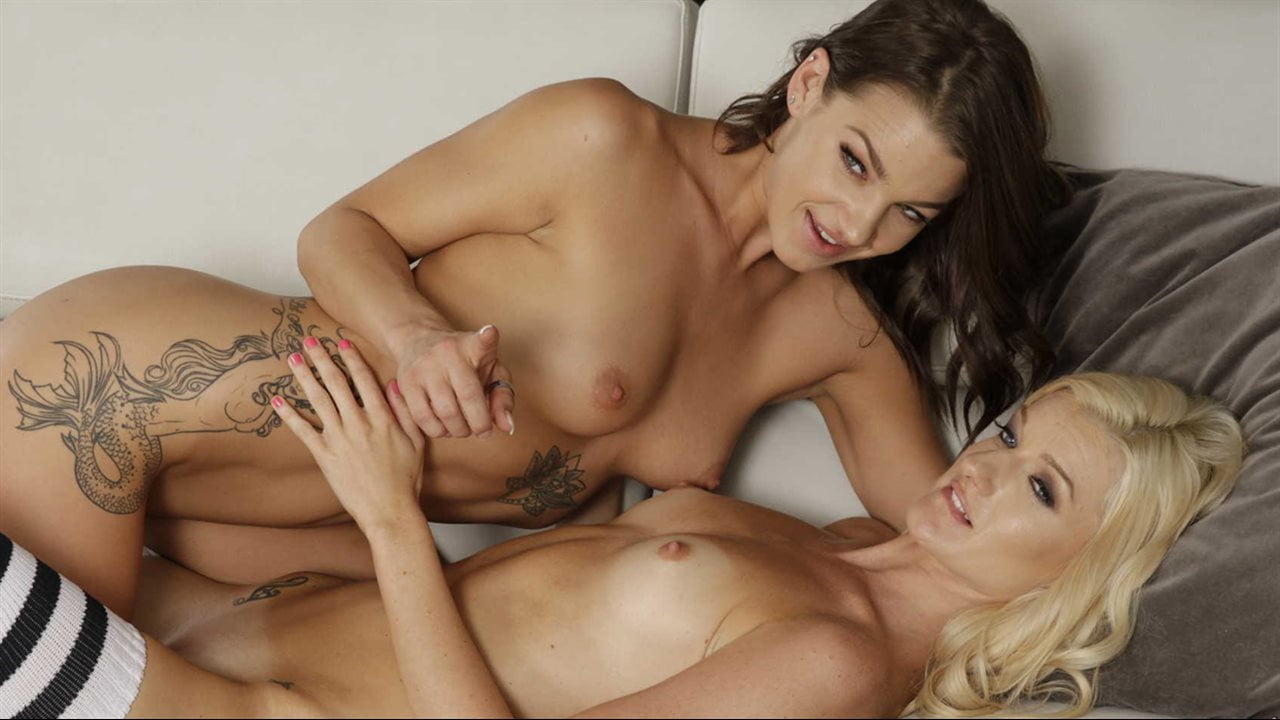 Jeni Juice woke up one morning to find her girlfriend, Evelin Stone, playing video games. Jeni was feeling extremely horny and she just wanted to fuck her slutty girlfriend. Only, Evelin was too focused on getting a high score to notice how wet Jeni's juicypussy was! In order to get the pussy she's been craving all morning, Ms. Juice decides to up the difficulty—by distracting Evelin with various sex toys while she button mashes! Soon, Evelin can't focus on playing her game any more but that's when Jeni sees her chance to play! Will Evelin be able to distract Jeni as well as she did, by shoving a strap-on cock down her slutty throat while riding a dildo? Soon, these girls learn that the only game they've been playing is teasing each other into some of the hottest lesbian sex you'll ever see! These gamer girls sure know how to play--with each other's pussies, that is!
It 's Evelin Stone and Robby Echo's wedding day, but not everyone is happy. Evelin has a heard a rumor that her future husband fucked his step-mom, Diamond Foxxx, a few weeks ago! Robby denies that he's fucked his step-mom, worried that Evelin will call off the wedding. But when Ms. Stone wonders if they can really commit to only fucking each other for the rest of their lives, Robby can't handle the fact that his soon-to-be-wife is having second sexual thoughts! Mr. Echo storms out of the room, brushing past his concerned step-mother who takes it upon herself to make sure Evelin has a happy wedding. When Diamond sees Evelin crying, she does her best to comfort her. Diamond offers to help fuck this sexy slut one last time before she says I do to her step-son. But when Robby catches these two luscious ladies in the act of licking each other out, will he accuse his fiancée of cheating or join them in fucking away their pre-wedding jitters?