Latest updates featuring Helena Price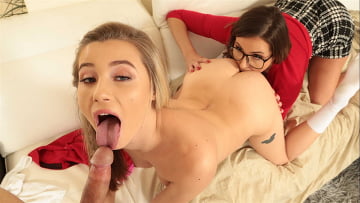 2nd April
- After a long night of relaxing, snacking, and fucking, the last thing I wanted to do was wake up to a giant mess and have to explain it to my domineer
ing step-mom. My house is in ruins and Helena is gonna be home any second. It also looks like my lazy girlfriend, Carolina, is more worried about whether or not she's going to get more dick than clean up this pigsty. Fuck, who am I kidding? She's begging for it while rolling around in those pajamas that barely cover anything… She arches her back on the couch, showing her eager body, teasing me… Fine. All right. Just a quickie then we'll clean up before Helena gets here! That's a plan, right? Who could focus on picking up trash when your hot girlfriend is begging for more? She slides her warm wet mouth over my cock as she stares at me with those blue eyes… Wait? Is that a car door? How long has it been?!
...Read More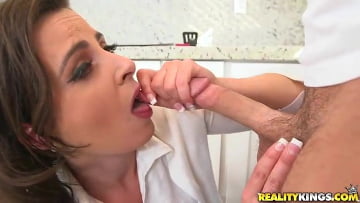 15th February
- Seth was on the lookout for MILFs at the local grocery store and he saw one coming out of the store on the phone. She was distressed and arguing on th
e phone. Seth approached her and asked if she was alright and, Helena Price, told him she got food to cook for her husband and he said he had to stay late at work again. Seth proposed they go back to his place and she could cook for him and get her mind off of her husband. She agreed and they went back to the house. Once they got to the kitchen, it did not take long until she was cooking in sexy stockings and panties. Seth feed her his cock and she got her pussy pounded. She got her pussy drilled and got that cream all over her pretty face.
...Read More