Latest updates featuring Jessica Torres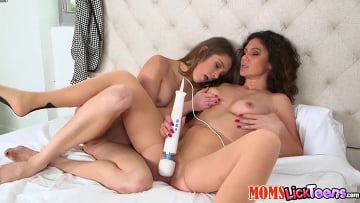 10th May
- Kirsten came over to hang out with her bff but she had sold her out to hang out with her new boyfriend again. Her step mom Jessica was around and aske
d her if she wanted to stay and watch a movie with her. Kirsten went ahead and jumped in the bed to get comfy and started channel surfing and stumbled on some porn. She seemed very interested the porn and Jessica was all about it too so she sat back and started pulling some moves on her. Kirsten said she had not done anything with a girl before but was very interested so Jessica decided to show her a thing or two. Dont miss this hot woman really showing this hottie the ropes in the sack and giving the ride of her life.
...Read More
29th February
- Love, Set, Match! Jessica Torres, with minimal skills, totally schooled Brad in a high stakes game of tennis. Though if you ask me it was a win-win fo
r Brad, he's getting served either way. After a tough loss for him, his consolation prize was Jessica's big ass. Lucky loser. After she sucked on his racket he got to smash her sweet pussy. It was an intense match.
...Read More