Latest Updates Featuring Lexi Lore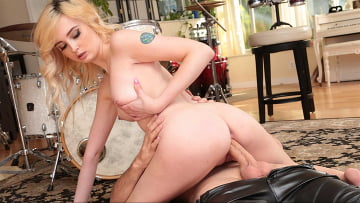 9th March
- Pale blonde rocker teen Lexi Lore wants to learn drums and Sean Lawless just happens to have a dumb idea for getting laid: Sean's buddy left a drum ki
t at his house, so he lures Lexi over with the promise of lessons. The first one is free, but Lexi soon discovers Sean can't keep a beat, so to get the most for her time, she decides to let him hammer out a rhythm in her lovehole. While Sean's busy beating the skins, she strips to her panties and shows off her pierced nipples. Then this braces babe blows his bongo and bends over for an uptempo doggystyle dick-reaming. Sexy Lexi makes sweet music, moaning while riding Sean as he rocks out with his cock out. This syncopated sexfest ends with Lexi learning how to bang over the kick drum, and she proves that even though she is a musical beginner, she's a pro at taking a facial!
...Read More
>> CLICK HERE TO DOWNLOAD <<
31st January
- THE BUS DOES NOT STOP BOY!! This week, we rolled up on this 19 year old hottie. We offered her to jump on the bus to make a buck. She kept asking for
more and more money before accepting the offer. This chick really loves money. Eventually, we got to her right price, so she hoped on the bus and soon hoped on Peter Green's cock. She got fucked all over the bus before receiving a giant load all over her face. And at the end of the day, we didn't pay her shit and ended up sending her ass packing. FUCK OUTTA HERE GREEDY HOE!
...Read More
20th December
- Lexi Lore is a hot and petite dating app queen who averages about three dates a week. She linked up with this super hot guy named Kyle who invited her
over to watch a movie, but Lexi was thinking they would probably be getting into a bit more than just cuddling and watching the newest blockbuster. To prepare for this she made sure her outfit was on point and her braces were polished to their shiniest condition possible. Kyle automatically was mesmerized by her metal brackets, losing his focus as she circled her tongue around them. It turns out he was mesmerized because he was not aware that Lexi had braces, so he called his boy up and said he got catfished. Lexi was notthis, so she pushed Kyle against the wall and started to suck his cock and let him fuck her horny little braceface. Kyle then proceeded to ream Lexi's tight pussy and blow a fat load of his jizz all over her dainty little brackets. Lexi was nothing less than filled with joy from his creamy cum!
...Read More