Latest updates featuring Myrna Joy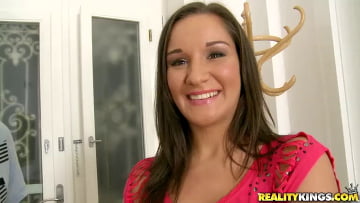 5th February
- Renato brought in Myrna Joy to stay at Mikes apartment. She was amazing looking but didn't speak a word of English. That didn't matter because Myrna d
idn't really need speak much. She let her body do all the talking. Her tits were so perfect, she didn't need a bra. She got undressed, as JJ caressed her perfect body. JJ teased Myrna's pussy and ass, as she played with herself. Renato got impatient and jumped in. He took control of this quiet beauty. He licked her between the legs like it was made of ice cream. Myrna was so moist, he had no problems sliding right. Her perfect tits bounced like a natural pair should. Myrna loved his cock so much she wanted it in her ass. Renato pound her until he couldn't move any more, so he took a break and let her finish him off.
...Read More
26th December
- Myrna and Violet were hanging out with Choky and James. The four talked and got to know each other more and more. Soon, the clothes was coming off, an
d we were introduced to Myrna's sexy Hungarian body along with Violets luscious Czech ass and perky tits. The four rubbed, licked, sucked and stroked, as they explored their sexual ambitions and intrigue. This sensual collaboration got deeper and deeper, as the fucking got more and more intense. Everything erupted with Myrna and Violet at the helm for some satisfying facials.
...Read More
>> CLICK HERE TO DOWNLOAD <<
27th September
- Naughty slutty girls get DP by some big hard cocks. Each girl fits these cocks deep inside their tight holes. Enjoy the threesome DP.