Latest updates featuring Paris Cartier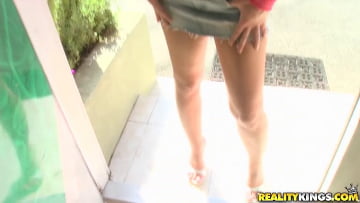 16th October
- Parris was told about a party from her college friends. She was bored with her homework, so she decided to find out what it was all about. She showed
up looking so cute, but with a hint of shyness. She busted out her password and the party began. Her sexy French accent sounded so nice as she played with her pussy. After she was all warmed up, Chris came in and took control. She took as much of his cock in her mouth that she could, but she made sure to fit all of his balls though. Her wet pussy took his shaft like it was made to fit, and he made sure to let a nice helping of man party on her face.
...Read More
>> CLICK HERE TO DOWNLOAD <<
9th October
- How bout some brand spanking French girl pussy?! Paris has never done any movies. It's her first time and to top it off she's doing a creampie!!! What
more can you ask for really? I mean she's hot! We picked her outside a car shop. She was standing in front of a classic car. We decided to make a classic movie with a classy French chick, Her tits are suckable and her ass is the all rave on the French Riviera! In all seriousness this girl is beautiful. Who ever found her stumbled upon a gold mine. You can tell that this girl loves to fuck and the more movies she does the more fans she will develop. Thank God for French fries, French dressing, French wine and French vagina!!
...Read More