Latest updates featuring Skylar Green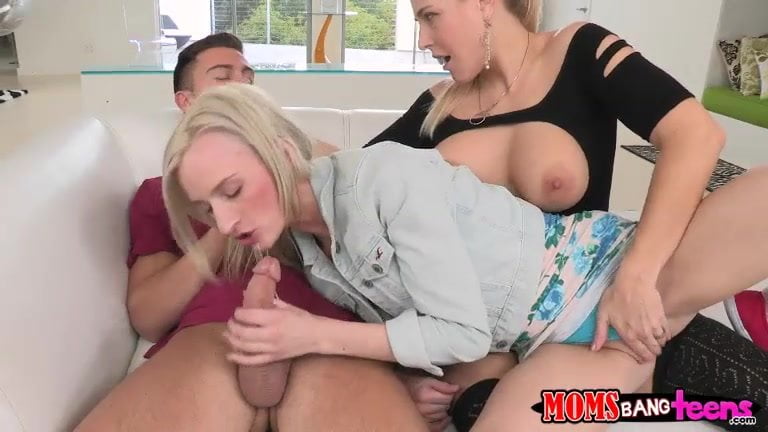 Seth was waiting for his girlfriend Skylar out in front of her house when her step mom Angel came out and invited him inside. Angel told him she'd overheard the young couple having sex in the other room last weekend and liked it. She began rubbing his cock and persuaded him to let her pull it out. Then Angel stroked and sucked on his cock. Skylar came home and caught her in the act of sucking her boyfriend's dick. Angel explained that they could make a deal, and she would make sure she got more money for her allowance and a new car. Skylar went along with it, and they both sucked and fucked his cock together. They got their pussies pounded and got that man juice all over their pretty faces.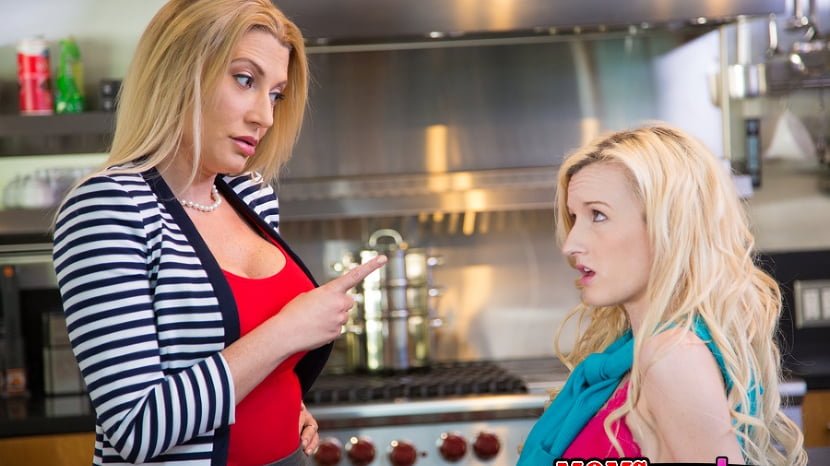 Jennifer was finishing up some things around the house and explaining to her step daughter that she was to have no one over while she was gone. Skylar was totally giving her an attitude about it, but Jennifer took off and left her home alone anyway. When she came back to the house, shortly after forgetting something, Jennifer found Skylar spread eagle in her bedroom getting fucked silly. Skylar jumped up terrified and begged Jennifer not to tell her father. Jennifer was totally into what she saw and ordered her to keep sucking her boyfriend's dick as she watched. Skylar hesitated at first, but didn't want to get in trouble, so she went to town on him. Jennifer got turned on and wanted to join in on the fun. You don't want to miss the hot action, as this hot MILF showed her step daughter how to really work the cock.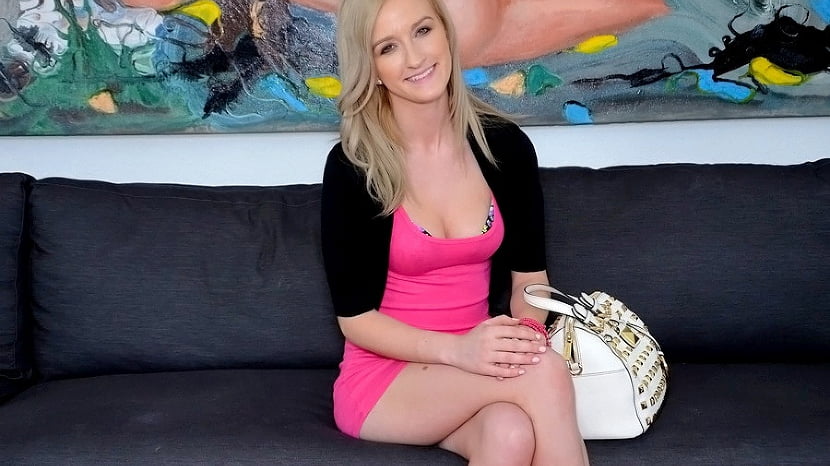 Skylar was getting bored with her humdrum college life. So, what's a beautiful blond with a sexy body to do? Skylar stole away and tried out for a porno scene. This girl was horny and ready. She bounced her firm round ass, tight pussy and perfect tits for the camera, as she gave details of her dick sucking and riding skills. Tony was about to jump in and get a taste himself when Jmac showed up. Jmac put her to the test, and Skylar showed him she was ready to perform. She took everything Jmac gave her with ease, including a face-drenching cumshot.



As beautiful blonde Skylar Green dries off from her indulgent bath, she smiles in anticipation of getting dirty again when she wakes her man Tyler Nixon with a kiss. Tyler is instantly receptive to the sweet-smelling naked woman in his arms, kissing and caressing her body and becoming instantly hard.When Skylar feels the thrust of her man's erection, she instantly kisses her way down his body and pulling his hard cock out so that she can take him in her warm eager mouth. The blonde is enthusiastic, bobbing her head and licking with evident pleasure.Tyler can't wait to deliver some spectacular oral sex of his own. He encourages Skylar to lean against the bed's headboard so that he can bury his face in the warm wetness of her delectable shaved pussy and go to town with his talented tongue. He is totally into his delicious task, using his hands to squeeze the blonde's lush bottom as he drives her wild with his mouth.Now that they're both warmed up and ready to go, Skylar takes the lead in their lovemaking again. Mounting her man in reverse cowgirl style, she impales herself on her beau's stiff dick and gives some experimental bounces. Soon Tyler can't wait any longer; grasping Skylar's hips, he pistons in and out of her tight twat.As the passion continues to grow between the couple, they rearrange themselves into the more intimate spooning position. Tyler can't keep his hands off of Skylar's small tits and hard little nipples as he drives into his woman from behind, and Skylar's moans of approval let him know that he's pushing all of her buttons.Rolling onto her hands and knees, Skylar thrusts her delectable twat into the air so that her man can take her from behind. Tyler happily accepts the invitation, sliding his erection home again and again as he delivers a proper pussy pounding to the music of his woman's panting moans. Finally when Skyler returns to her back and keeps eye contact with her man, Tyler's hard work pays off as Skylar comes apart in his arms with a big climax. Seconds later, the blonde crawls off the bed and opens her eager mouth wide to receive a wet dripping facial from her man's climax.
Beautiful blonde Skylar Green has an incredible body that she just can't keep her hands off of. Caressing her palms all over her pale smooth skin, Skylar peels her clothes off and takes some time to give her high tits a loving massage. The tender globes are super sensitive and her nipples love to be pinched. Skylar's kneading rubs quickly get the blonde babe so hot and wet that she can easily slide two fingers deep into her creamy bald pussy.Turning to her vibrating toy, Skylar settles on an oversized chair with her long legs spread wide to give herself easy access to her needy twat. She knows just how to work herself, pressing the head of the massager against her tight clit and running it up and down her slick slit.Soon, the incredible pressure is too much for the cute coed to handle. She gives in to her first climax, gushing her pleasure as her pussy juices squirt everywhere while her tight little asshole throbs with ecstasy. She isn't done yet, though; keeping the vibrator right where she loves the buzzing sensation she quickly cums again. Then, after a few more minutes of seducing herself with the vibrator, a third orgasm shatters her slender body, leaving her panting and exhausted but totally sated.
Skylar Green and Liv Aguilera are two rebellious teens, hellbent on escaping the mundanity of every day life. They crave adventure, excitement and the thrill of seducing a stranger. When they meet Ryan, they'll go home with a smile on their faces and cum in their pussies. Watch as we proudly celebrate our 100th episode!