Latest Updates from 'Mike's Apartment' at Reality Kings (Page 7)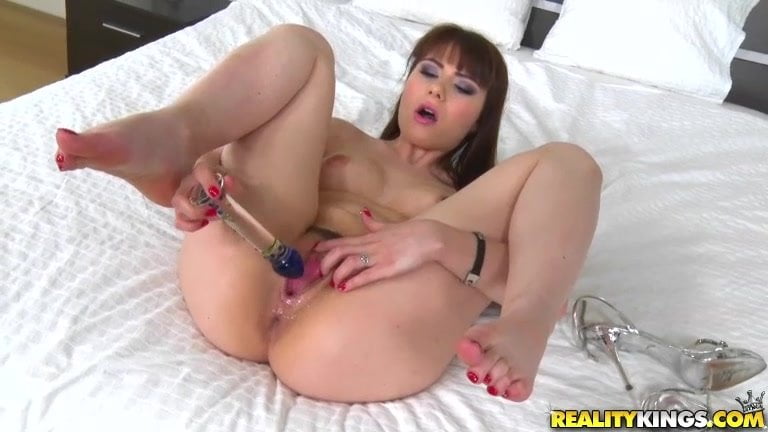 Luna Rival came to stay at Mikes apartment. She was a gorgeous French women with beautiful eyes. A translator was called to explain to her the special deal and she was very willing to do it. She started out by undressing and revealing her juicy body. She played with her sweet pussy with a glass dildo. Then, Choky came and collected the rent. She sucked and fucked that cock. She got her pussy and asshole drilled and got that man juice all over her pussy. The rent was paid.
Christen Courtney was already set in the apartment when we came to collect the rent. She had stayed over night, so she was well rested. She answered the door in her sexy nighty. She was waiting for us to show up. She had stayed at the apartment before, so she was prepared. She brought a toy this time around to make sure we had a worthwhile show. She knew what she had to do, but didn't know what Chris had packed away. After she got her pussy revved up Chris pulled out the rent collector. She was blown away as his cock appeared before her. His cock practically covered her entire face. She could barely fit half of it in her mouth, but she gave it her best shot. Chris opened up her legs after stretching out her tonsils. She took it much better as she couldn't get enough of his huge member. She was in cock heaven as she paid the rent and will never stay anywhere else in the city.
Carla Crouz came back for another play and stay. She knew the deal from the last time, so we could down and dirty quickly. We had her close her eyes, so we could surprise her with Chris and his enormous rent collector. Her jaw dropped as he gazed upon it. Once she gathered her thoughts we got her to strip for us. She tried her best to fit as much of his cock in her mouth but the human jaw can only open so wide. Carla's pink pussy got licked and moistened to help the ease the in the large deposit Chirs had to offer. Chris really made her gasp and moan as she took the the full payment. Carla Crouz got her final welcome back with a nice help of white gold all over her face.