Latest Updates from 'Moms Bang Teens' at Reality Kings (Page 5)


Gina Valentina was having trouble finding the perfect outfit to really wow her boyfriend Peter on their date. She was so nervous and really wanted to get her outfit right so she asked her Step Mom for some help in coordinating. Her Step Mom Kate Linn started checking her out while she bent over to lay a sundress out on her bed and then she decided to take a pic of her super cute butt from under her skirt. She wasn't wearing panties because she just got out of the shower and wasn't going to be wearing much of anything for much longer. She couldn't be more correct in that assumption because she started making out with her and they got into a major pussy licking bonanza! Peter came to pick Gina up but they were obviously too busy to answer the door so he let himself in and walked in on them. They were completely caught by surprise and Gina felt extremely embarrassed but that didn't stop a vet like Kate Linn. She convinced Peter to join in on the fun and of course it didn't take much convincing.
While going through her mail, Jaime noticed her step daughters' report card had arrived and it was all bad. Jaime was pissed and thats when Vanessa popped up with her boyfriend. Jamie started yelling at her and kicked Peter out. Vanessa went to walk him out but just told him to go around the side and she would let him in to her room. She went back inside and started mouthing off to Jaime about how she doesnt care what she says because shes just a step mom. Jaime had had enough and demanded some respect by grabbing her face and shoving her tongue down her throat, HOT! Vanessa was in shock and had nothing to say while Jaime told her to get her ass in the living room for a lesson. Jaime stripped her down covered her mouth and started fingering her while she moaned. Meanwhile, Peter had been peeping through the window the whole time and was caught when he made a sound. Jaime dragged him right in the living room and made Vanessa watch while she blew him. Before long, Vanessa was touching herself and getting wet while her step mom rode her BF's hard cock. You have to see all this intense action as Jaime teaches these two young punks how a real pro gets the job done.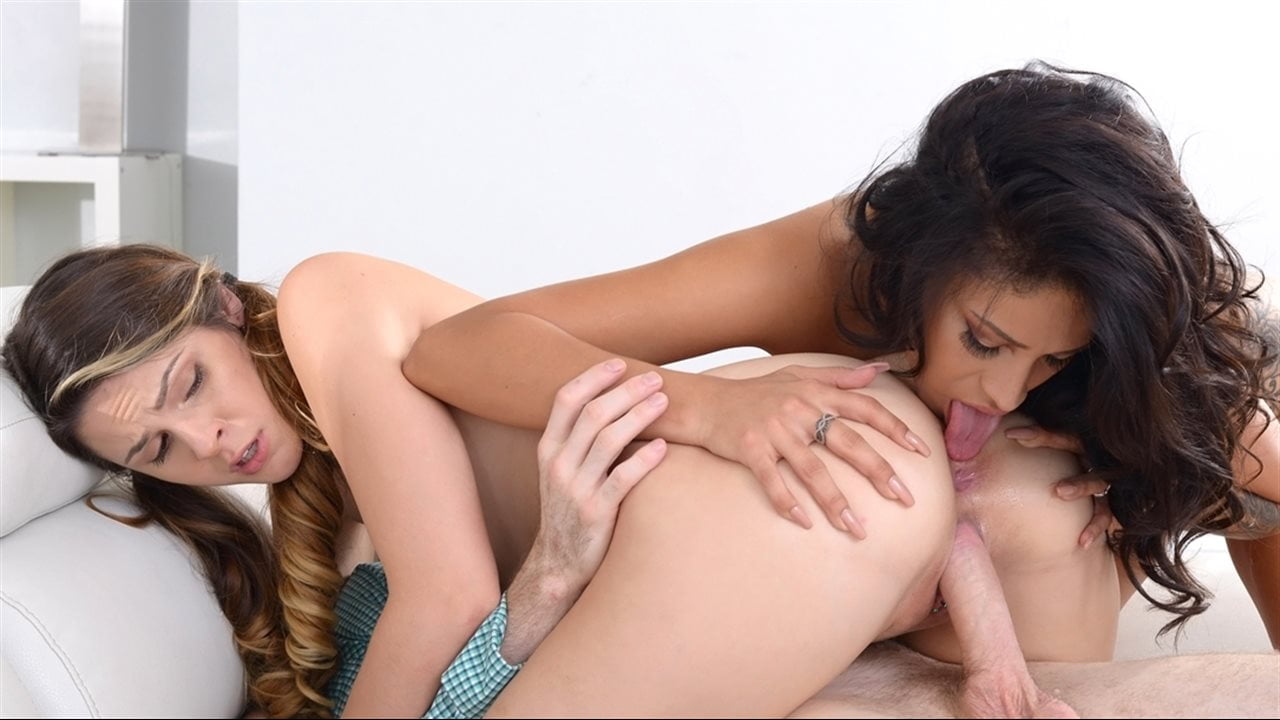 Rayna Rose took her boyfriend to a house that she was house sitting while her moms friend was away. Rayna was looking hot in those tiny shorts. They began kissing and her boyfriend undressed her. He began munching on her pussy on the couch when her moms friend, Jamie Valentine, came out from a back room and caught them. She watched them for a moment and got turned on. She interrupted them and they were embarrassed. She told them to continue and that she would help Rayna return the favor to her boyfriend. She guided Raynas mouth to his cock and she also sucked on his cock. Then, they took turns getting their pussies drilled. The man juice went all over Raynas and Jamies pussy.