Latest Updates from 'Pure 18' at Reality Kings (Page 3)


The hot and horny Guiliana was randomly cruising the internet for some good porn. While typing away and searching, Guiliana was shocked by a page that came up. It appeared her dad's friend, Preston, used to be in porn. She called a friend to share her finding when a knock came from the door. It was Preston. What's an overwhelmed, horny teenager to do? It didn't take much for this sexy bronze-skinned beauty with a plump juicy ass and firm succulent tits to coerce Preston. He grabbed that ass and just started pounding away. He gave her what she wanted, as the two sucked and stroked in a multitude of positions. For the coup-de-gras, Preston made sure she got the real porn star experience, as he drenched her in cum minutes before her dad came home.
Alice was waiting to get picked up by her brother, but he was busy, so he sent his buddy to Juan pick her up. After the ride back, as he was dropping her off, Alice explained she'd always had a crush on him and asked him to come inside with her. He told her he had to pick up his girlfriend, and that they were fighting because he thought she was cheating on him. Alice told him they could get back at her while she was rubbing his cock. She told Juan that her parents were out of town, and that she'd just turned eighteen. Soon after, Alice was sucking his cock in the car. They went inside, and she got her pussy munched on. Then Alice sucked his dick some more. Finally, she got her pussy pounded and got man juice all over her sweet round ass.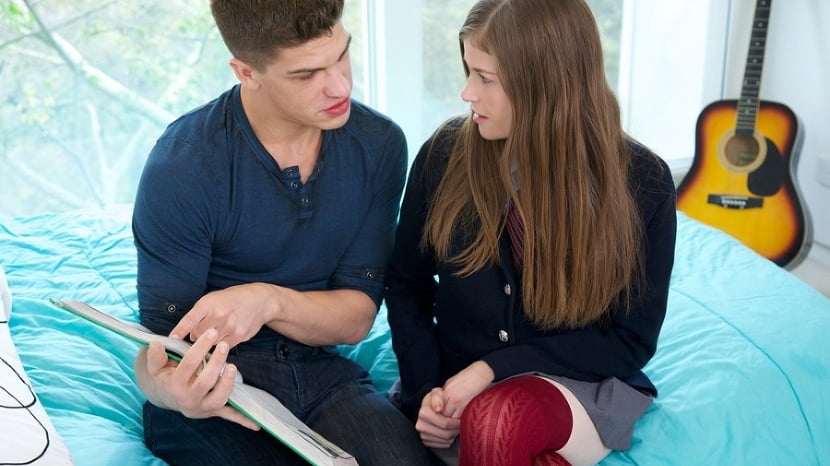 Lara was getting her tutoring like she does every Saturday. But for the first time ever, she was left home alone with her tutor. Lara couldn't help noticing that every time Bruce was lecturing her, he had a raging hard-on. Today she finally got to react on her impulses. As the study lesson ended, Lara reached over and grabbed Bruce by the cock. She got a closer look when she sucked his dick on the bed. Then Lara pulled her panties to the side to reveal her tight, pink, 18-year-old pussy. Bruce couldn't resist anymore, so he gave Lara a lesson like no other. As the clothes come off her supple, young body was revealed and all reservations were discarded, as Bruce pounded that pussy hard. Lara even got some extra credit, as she took his load to the chin.