Latest Updates from 'Teens Love Huge Cocks' at Reality Kings (Page 11)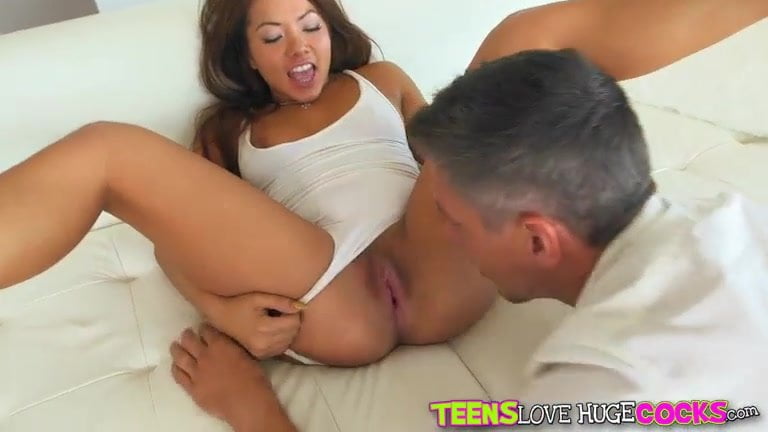 Morgan Lee was hanging out and when I finally convinced her to let me film her play with herself she mentioned she had to use the bathroom. As she opened the door, she saw Mick shaving in the nude and was completely flabbergasted by his dick size. She closed the door just as fast as she opened as she apologized profusely in embarrassment. I asked her if she liked what she saw and she replied with an emphatic yes! A little later on Mick walked in on Morgan masturbating and they were off to the races. Morgan personifies what this site is all about. She's a sexy little teen who loves huge cock.
Michelle Taylor loves the outdoors, the thought of creeping around at night really turns her on. It was pitch dark outside but we had a spot light aimed at her amazing body. Michelle is only 18 but she knows how to seduced anyone that sets her eyes on her. She showed us her perky tits before sensually slipping her hand down her panties. She softly rubbed her wet pussy and then shared her affinity for huge cocks. Always on time Jmac seemingly appeared out of nowhere and smacked her pretty face with his monster python. Michelle was in awe of the one eye whistle that she was about to blow on. She masterfully slobbed on his knob but was interrupted by by the neighborhood cop patrol. Michelle and Jmac were caught red handed. The dynamic duo made a split second decision to run. The cops gave chase but the donuts weighed them down and thus were unable to capture the two public sex offenders. Jmac and Michelle separated while on the run and regrouped back at her place. Michelle was still cock hungry so Jmac fucked her tight teen pussy in numerous positions and from various angles.
This time around we got the very cute, Stacey Levine. She is super cute with a naughty smile. She explained how she loved huge cocks. She began masturbating while talking about how she wanted a big dick in her mouth and in her pussy. She got that big dick just like she craved. She sucked and fucked that cock. She got her pussy drilled and got that cream all over her pretty face.