Latest updates featuring Alejandra Leon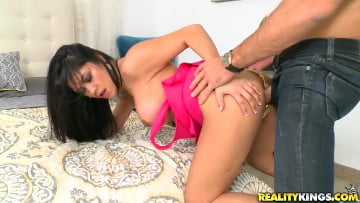 20th December
- Alejandra Leon is the kind of interior decorator that knows exactly what she wants and when someone or something gets in the way of her vision she los
es it. This was exactly the situation when she ordered a 9 foot Christmas tree but they delivered one which was only 6-7 feet. She was livid and immediately jumped on the phone to give the manager a piece of her mind. He went to her home as soon as he could to try and ameliorate the situation and when Alejandra opened the door and he saw how hot she was with her huge tits he couldn't help but flirt with her. She wanted a 9 foot tree and while he couldn't deliver that right away and had his workers start driving one over to her, one thing he could do was give her 9 inches. She snatched the offer up in her clutches and dragged him by his dick into her bedroom. There's nothing like a strong, assertive woman who knows what she wants!
...Read More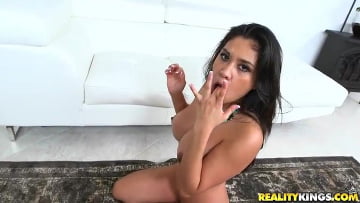 15th June
- This week Levi was at it again hunting MILFs. While cruising about, he saw this insane female body in profile at an ATM. Levi had to stop to see if th
ere was a potential hunt. Sure enough, Alejandra was struggling to get cash out that she desperately needed. Levi swept in to save the day and offered her cash to hang out. In the car, we got a look at that insane body. Alejandra had some huge Latina tits and big MILF booty. In no time, she was flashing and playing with that pussy in the car for cash. Levi took the action back to his place where Alejandra gave him an insane hummer before he pounded that mature pussy all over the couch. He made her feel like she was 20 again, and she broke him off with some of that MILF experience. Levi gave her the ultimate payday and deposited his nut all over her big MILF tits and pretty face.
...Read More