Latest updates featuring Amanda Verhooks
21st December
- Levy was on his usual hunt with one of his partners in crime and they decided to stake out a jogging track known for having some great hot girl traffi
c running by there. Just when they were about to call it quits Amanda Verhooks just came jogging by and stopped not too far away to begin her cool down stretches. Levy and his buddy set up a plan of attack and implemented it. He asked her if she knew of any great places to get a great protein smoothie or juice with a shot of wheatgrass. She told him she was from out of town and that she was sorry she couldn't be of more help. That's all it took for him to break the ice and strike up a conversation with her. She was not from the area and was only in town to compete in a hardbody competition. Her hubby wasn't very supportive of her endeavors and became exceedingly angry at him for his lack of support. Levy knew 'hell hath no fury like a woman scorned' and used that tidbit of information to his advantage. It didn't take long to bag her once Levy had enough to work with and he was pleasantly surprised to hear the sexy banter she kept spewing throughout their naughty fuck session.
...Read More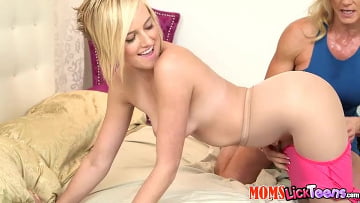 20th May
- Kate was a sexy teen that was really close with her step mom, Amanda. This afternoon, Kate came home and found a letter from the arts college she'd ap
plied to and was really hoping to get accepted. She'd worked very hard on her dancing and studied extra hard for the entrance exam. But to her dismay, it was a rejection letter. Amanda stepped up and played the nurturing step mom to help her feel better. The comforting totally worked, and she even offered to rub her feet after a long hard dance practice. Of course, Amanda really wanted to put her at ease, so she busted out a big vibrator and went to work stimulating Kate's nice teen pussy. That got a real rise out of her, so Amanda kept on going. She ripped open her leotard and started to rub and suck on that HOT teen pussy. In no time, Kate was orgasming like crazy. She returned the favor to Amanda, and both ladies sat back in the afterglow. Now that's how Moms lick Teens!
...Read More