Latest updates featuring Anna Lynn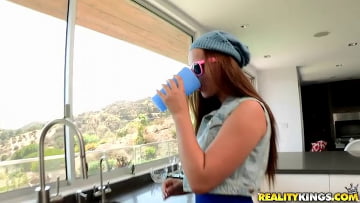 15th March
- Jillian brought her bright blue eyes and her voluptuous body for us to enjoy today. She had an ass that wouldn't quit, and two big beautiful melons to
go with it. We followed her around for a minute making sure we got a good view. Then she surprised us with a treat. Jillian decided to soak in the hot tub. As we watched her masturbate in the tub, the heat got turned up, and so did Jillian's yearnings. Johnny stopped by just in time to give her a big cock to suck on and tame the fire inside. Jillian led Johnny upstairs, so he could properly pound her pussy and explore every curve and crevice of her amazing body. Johnny's fucking and playing with her asshole got her so hot, Jillian's lust could only be quenched with a filling creampie.
...Read More
30th November
- Anna's been looking for a big cock to satisfy her. In the past every guy was just frontin' and left her disappointed. Johnny is coming over to try and
give her what she wants. But before he gets there this sexy brunette shows us her nice, plump tits and big, luscious ass as she undresses and poses for the camera. Anna loves to masturbate and while she waits for Johnny she gets herself dripping wet. Johnny gets there and quickly takes control, getting a taste of some primo 18-year-old pussy. Anna is pleasantly surprised when she pulls down Johnny's pants a thinks he is going to be able to give her what she needs. She sucks and takes him in as far as she can before sticking her beautiful ass in the air and getting pounded doggystyle, Anna takes everything Johnny gives her and invites him to fill her young pussy with cum. Not wanting to disappoint Johnny presents a filling creampie and Anna shows us a huge smile.
...Read More