Daisy looks like that best friend of your mom who always had a great rack and always looked oh-so fuckable. This babe first showed up on the radar of us here at the Reality Kings network back in 2007 when we were looking for some hottie to be in our MILF Next Door series of videos. One of our girls working in the sound department turned us on to Daisy here, and the rest is history!
Latest updates featuring Daisy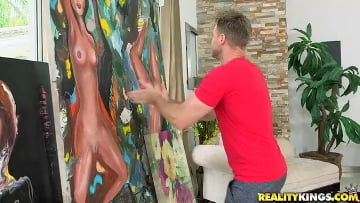 26th January
- We ran into this MILF the other day that was into art. Her name was Daisy, and she had her own gallery that also gave workshops. Levi got her to come
over to see some of his work. He set up whatever paintings he could find around the house to see if he could get her to sell them as his own. But Daisy didn't fall for it. She noticed right away that some of the paintings were prints on canvas. He tried to play it off, but she wasn't having it. Daisy actually flipped it on him. She wanted to use Levi as a figure model for people to paint and draw. Daisy even got fresh and wanted to see all of him. The house rule was and still is that if he is naked, the female has to get naked. One piece of clothing after another came off. Levi went face first in her ass and licked it up like a scoop of ice cream. Daisy returned the favor as she took his cock whole before he started to pound her big ass from behind. They made a few modeling poses together only an artist could see. Levi finished his masterpiece with a dash of man-mixed paint across her face.
...Read More