Dasani is without question one of the most exciting latinas in porn today. An amazingly hot Latina babe, she's definately on her way to the top. She has one of the most beautiful asses around, and she's not overly huge up top either, she's just about perfect. Praised with real perky sized breasts and a big round ass, Dasani is the prime example of a true Latina beauty. She arrived on the scene in 2002 on 8th Street Latinas, teaming with a big cock to exemplifying great oral skills. Dasani showed to be wild and crazy from the beginning, deepthroating her counterparts, while enjoying good oral pleasure, and climaxing with some hardcore penetration. It's a crazy one of a kind feature thats for sure. More recent works include on Flower Tuccu episode titled "Thick and Thin", taking on a orgy in a sizzling rendezvous.
Latest updates featuring Dasani Lezian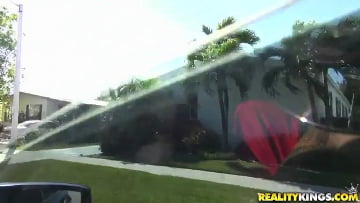 4th March
- Hunter and I were on our way to pickup a friend when we spotted Dasani kicking a bag full of clothing. We also noticed that an old van was following h
er so we pulled over to see if she was ok. Dasni was angered at the fact that her husband, an alcoholic degenerate, gambled away their savings and kids college money. We offered her a ride but she refused. Eventually we calmed her down and asked her if she needed a place to relax and think things over. She agreed and after evading her husband we safely made it back to Hunter's place. Dasani showed her gratitude for helping her avert a potentially dangerous situation by wrapping her luscious lips around Hunter's cock. She gave him and extraordinary blow job and then took his one eye whistle for a serious ride.
...Read More