Latest updates featuring Destinty Dymes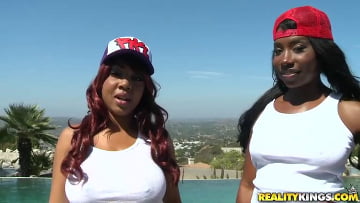 24th May
- After cheering at the RK baseball game, the girls passed by to show some love. They were not done having fun and they were feeling a little bit freaky
. So they wanted to pop and twerk for us and just let loose. Coco and Destiny were about to give us a good time and we were about to film it all! After some ass worshiping and lots of drooling by us, Clover passed by. He had two things in mind. Coco and Destiny. He wanted those juicy ebony asses and the girls would not disappoint. It was truly fucking EPIC!
...Read More
7th December
- Destiny is visiting her friend Kat. Theyre getting ready to take a bubble bath together. Destiny does a little posing for Kat first showing off her ju
icy ass and plump tits, hard nipples and all. Destiny definitely has the assets to provide Kat with some eye candy. She gets into the water and soaps up, giving her ass a delicious glisten. Kat is about to get in when her old friend Marco comes knocking on the bathroom window. Despite their pleas of this being a girls nite Marco climbs in through the window. The bathing beauty in the window was too much for Marco to resist. He proceeds to give Destinys ass the attention it deserves. Things just naturally progress from here. Destiny sucks Marcos cock till its nice and ready and then starts fucking. Every position showcases her luscious ass. It doesnt take long before Marco explodes and leaves Destinys ass covered, giving her the perfect excuse for a bubble bath.
...Read More