Latest updates featuring Emily Briar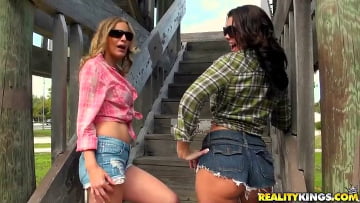 22nd June
- This week, Brianna had her friend Emily in town as a guest. She took her out to see some sites, had a cook out at a local park, then took her home. Br
ianna had Emily all to herself for the weekend since the husband was away. When she took Emily to the guest room, and she started unpacking, Brianna noticed she'd brought a toy along to play with. That's when things got interesting, as they started kissing and stripping naked. Emily showed off her juicy ass while Brianna went to town on her pussy. Don't miss out on all the hot action between these two smoking hot MILFs.
...Read More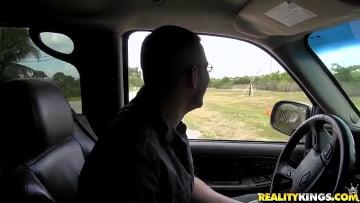 22nd April
- Hunter and I made a wrong turn and ened up in an area far from any major highways. All of the streets were indistinguishable that is until we spotted
a damsel in distress roadside trying to fix her flat tire. When we pulled up to assist her she offered us cash but we had something else in mind. I was holding the camera so Hunter changed the tire during which we found out that our beautiful damsel was married and had one kid. After changing the tire, we explained to the that she wasn't going to get to far on the donut. We eventually persuaded her to come back to our place while we made arrangements for her car to be towed. During the ride back home, Hunter worked his Magic. When we arrived at his place, Emily was ready for the cock. Hunter ripped her fishnet stockings and after smacking her beautiful big booty a few times he stuffed her mouth. Emily took his one eye whistle for an amazing ride and then welcomed a shot of jizz all over her face.
...Read More