Latest updates featuring Hayden Hennessy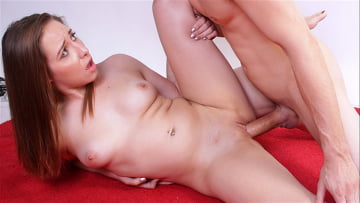 3rd January
- Karlee Grey was roaming the streets of Los Angeles looking for girls that would sexy dares for sweet cash. First she met some Asian girls. When she wa
nted convince them to suck some cock they thought she just wanted to cook. The next two girls at least would flash some boobs in exchange for green. The next couple was intrigued by the idea of a blowjob in the car. Karlee's friend owned a photo studio. The first girl that came in would get naked for cash. Her pubic hair was trimmed into a star. Very cute. Hayden Hennessy came in. She also stripped for some cash but she was interested to make some more. She sucked the photographers dick and then started to fuck him. First some doggystyle, then missionary on the floor, cowgirl and doggy on the stairs until he came on her breasts. Money talks!
...Read More
>> CLICK HERE TO DOWNLOAD <<
15th December
- Hayden was getting ready for her daily yoga when her brothers friend came knocking at the door. Her bro was still at work, but that didnt stop little
Hayden from inviting this hottie in to wait comfortably. Hayden continued to go outside and work on her poses. Sure enough her bros friend got bored in the living room and went to watch Hayden do her yoga! She thought he was a bit pervy about it, but then offered him a challenge. All the boys at her school are too pussy to do yoga with the girls. Maybe he would be down to try? He was so down. And luckily, Hayden was tiny enough for him to even try some acro yoga on. Once that became a thing, the acro fucking ensued. Our boy pummeled Haydens exquisitely tight pussy and nutted all over her backside with just enough time for some final deep breathes after. Talk about one HOT yoga session.
...Read More
6th November
- Hayden Hennessy is justsmooththe liquor shes named after (and super sweet too). She gladly agrees to go through her preliminary interview naked, which
we really liked a lot. Shes only 20 years old and is very excited to tell us all about her and get railed! She tells us a quirky story about how she lost her virginity, her lust for anal, and her passion to have all her holes filled whenever possible. Her cocksucking skills were that of a professional, lubing that cock up with her spit extra nicely. Her extremely tight pussy took to the cock well, and her moans made her a treat to watch. Seeing her chest and pussy covered in cum was the icing on top of this wonderful cake of a scene. Delicious!
...Read More