Latest updates featuring Aiden Ashley
Carter's got a genius idea for how to liven up a lazy afternoon bike ride with her girlfriends: strapping dildos to the seats! As the hotties ride their bikes, the dicks they're riding hit all the best spots, and before long they can't wait to go inside and get naked. Pretty raven-haired Ashley is the first hottie to get her besties' full attention, with Carter licking her pussy and Penelope playing with her tits until she cums. Next it's Penelope's turn, and Carter's brought the dildos inside to fill up their pussies before the hot blonde shows her girlfriends just how to take a big toy in her asshole, something Aiden can't wait to try. There's no boys allowed to this party, but these sexy lesbians don't need a guy to ride a (plastic) dick!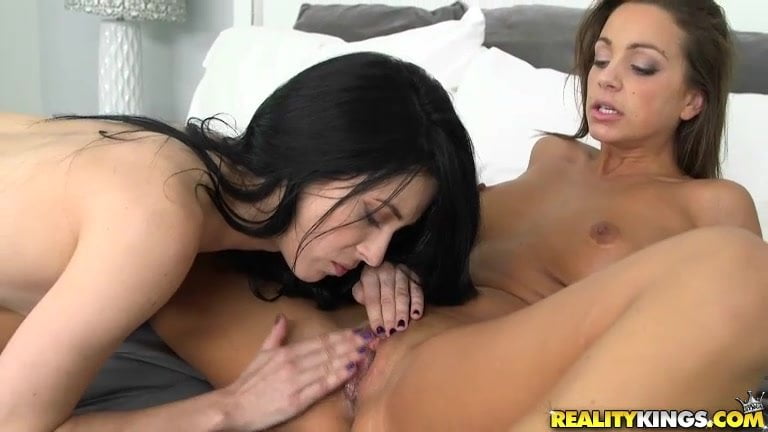 Abigail Mac stepped into her roommate's, Aiden Ashley, room to let her know she was headed to the mall. Aiden Ashley notice that Abigail was wearing one of her shirts, and made her take it off before she left. Abigail most likely did this on purpose because she knew how horny Aiden was. Either way, dressed like she was, Abigail was looking to hook up one way or another. If her nipples were any harder they would of ripped right through the shirt. She had some serious side boob action as well. Everything about the shirt screamed I want to get laid. She got want she want as Aiden did what any of us would do which was grab Abigail and not let go. They locked lips and what clothes remained came off. Of course neither one of them were wearing panties because when you live with a girls that love to eat pussy there is just no reason to have them on. These two vixens got on each other like syrup and pancakes. They were hot and sticky. After this pussy munching session Abigail probably didn't make it to the mall if she even attempted to go in the first place.