Latest Updates from 'Money Talks' at Reality Kings


Moneytalks decided to entice people to pull off a stunt by giving away free hot dogs but with a catch of course. If a dude was willing to put his wiener in place of a real hot dog, put toppings on it and be filmed while doing it, we would offer him some cash and also let him have all you can eat hot dogs. As always we had many people decline but sooner or later some brave souls accepted the challenge. One girl who walked in with her boyfriend had such a nice pair of tits we offered her a quick Benjamin to flash us and we eventually got her to suck off her boyfriend with his dick in a hot dog bun smothered in ketchup and mustard. Then, innocent, little Alice walked through the doors inquiring about our special free hot dog offer. We explained it to her and popped Tony's cock into a hot dog bun. If she sucked him off she would get $300. She was worried about getting caught and going to jail for perverted behavior but we told her we would look out and make sure nothing would happen. Tony upped the ante and offered her a cool $1000 to fuck him and she couldn't resist making some fast money for simply enjoying her afternoon of wiener filled fun!
We have some hot oil wrestling action on Money Talks this time around. We put out an ad for extras in a shoot but really we wanted to get girls but naked and oiled up. first came this hot blonde with her friend who we convinced to get naked and wrestle with Adrian. Then we thought it would be good to see her wrestle with her male friend naked as well. She was not feeling this at first but was soon convinced by cash. Once she had him pinned down, Adrian jumped right on top of him and started blowing him. We tried to get the hot blonde to get on and do the same, once again it took some cash but we got it done. After she blew him, she stuck around for the rest of the day helping us get some more girls. We finally got this one really cute Asian girl, who was very shy at first but of course the cash helped ease her coyness. It was not long after that, that she was all over Peters dick getting oiled up and fucked hard. You do not want to miss this one.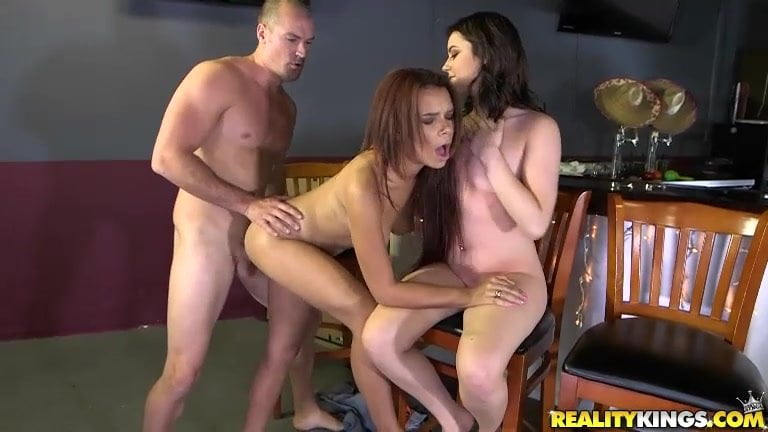 We bought a bar which needed a few repairs but we had it up to code in no time at all. The first customer to walk in was a down to earth hottie. We offered her some cash for a titty flash but she declined. It was only when we upped the stakes that she accepted and showed us her magnificent ass along with her perky tits. The following customers to walk in were two beautiful girls. One was a sexy 18yr old and the other girl was a stripper who works in the club next to the bar. After negotiating, we got to see the 18yr old's tits, ass and tight bald beaver. We offered the other girl some serious bills and soon enough we had her on her knees slurping on the johnson. Sean fucked her on the barstool and then jizzed on her pretty face before sending her on her way.