Latest Updates from Mike's Apartment
10th January
- My friend Mikey suspected one of his tenants, the sexy French brunette beauty Clea Gautlier, to be running a house of ill-repute. That's putting it ge
ntly: he heard a rumor that she was running a spa for male customers and charging them extra for "deluxe massages." Mikey and I cut a deal: he paid me to go over and ask her for a handjob and find out anything else I could about her operation, then he would evict her and turn her over to the cops. Well, Mikey's suspicions were correct… but when I saw Clea prowl up to the massage table with black lace lingerie clinging to her lithe, slender frame, my dick put the kibosh on our deal. Oh, I kept my half, but I also let Clea reach up under my towel and stroke my cock until it was rock hard so I could pound it in and out of her hot European pussy. It's not like I could rat this lovely lady out while my dick was in her throat.
...Read More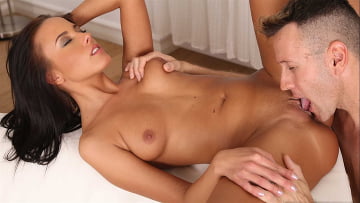 27th December
- Lexi is in town looking for a modeling job to showcase her lithe body and supple curves. It's just her luck that Choky has a couple connections in bus
iness and is willing to give her some tips! They hold a mock photo session so that Lexi can get a feel for the camera - but she's already a natural! It isn't long before she's stripping down to her bra and panties to get those valuable risqué shots. Eventually, she isn't even satisfied with the solo shoot. To Choky's surprise (and ours!) it seems that Lexi isn't as much of an amateur as we thought!
...Read More