Latest Updates from 'MilfNextDoor' at Reality Kings


Nothing pleased me more than presenting something special to all the members for the holidays! The jingle belles, Brooklyn and Bree, totally got into the spirit of the season and got all dolled up before decorating the Christmas tree. They were chit-chatting and trying to figure out which one of them was the naughtiest and how they could prove it. Bree threw Brooklyn down onto the couch and showed her exactly how to make the yuletide gay. Brooklyn also returned the favor and made sure Bree had a holly jolly Christmas. Poor Santa Claus will only be left snacking on milk and cookies while these girls splurged and enjoy each other. Season's eatings!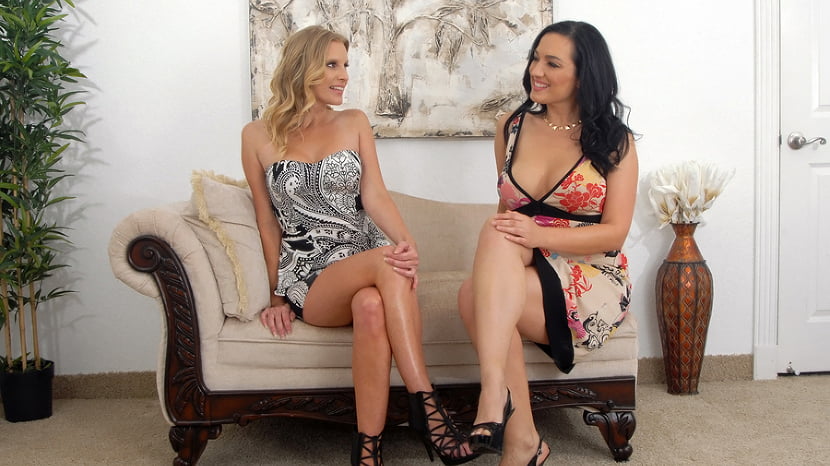 Nadia was a house guest staying over at Bree's when Isabella came over to meet up for a fun day of shopping. Isabella noticed Bree's hot pink panties were completely visible through her black and white dress, and she realized she had to change. Nadia was feeling a little under the weather and was going to spend the day in bed when she found Bree's stash of sex toys. She was willing to do anything to get over her cold and feel better. As Bree and Isabella tried to sneak back into the room without disturbing Nadia, they ended up with a giant surprise! She was masturbating using one of Bree's favorite vibrators! All three of them were shocked and surprised, but Bree figured they could capitalize on this embarrassing circumstance and have some fun. At the same time, they could help Nadia feel better, so it was definitely a win-win situation.
Brianna was at the airport and lost her phone charger. She couldn't help but notice the gorgeous body of India, and while she was checking her out, she noticed she had the same phone. Brianna asked about the charger and with the door open used her girlish charm to lure India in. They made their way back to the house, and as Brianna searched her purse for her charger, her vibrator fell out. India picked it up and, having caught on to Brianna's previous advances, decided this was the perfect moment to make a move. They started kissing and soon someone's mouth was always filled with pussy. These sexy MILF's went at it back and forth through multiple orgasams. They laid back in each others arms in the end slowly building up the strength for round two.