Latest Updates from 'Euro Sex Parties' at Reality Kings (Page 2)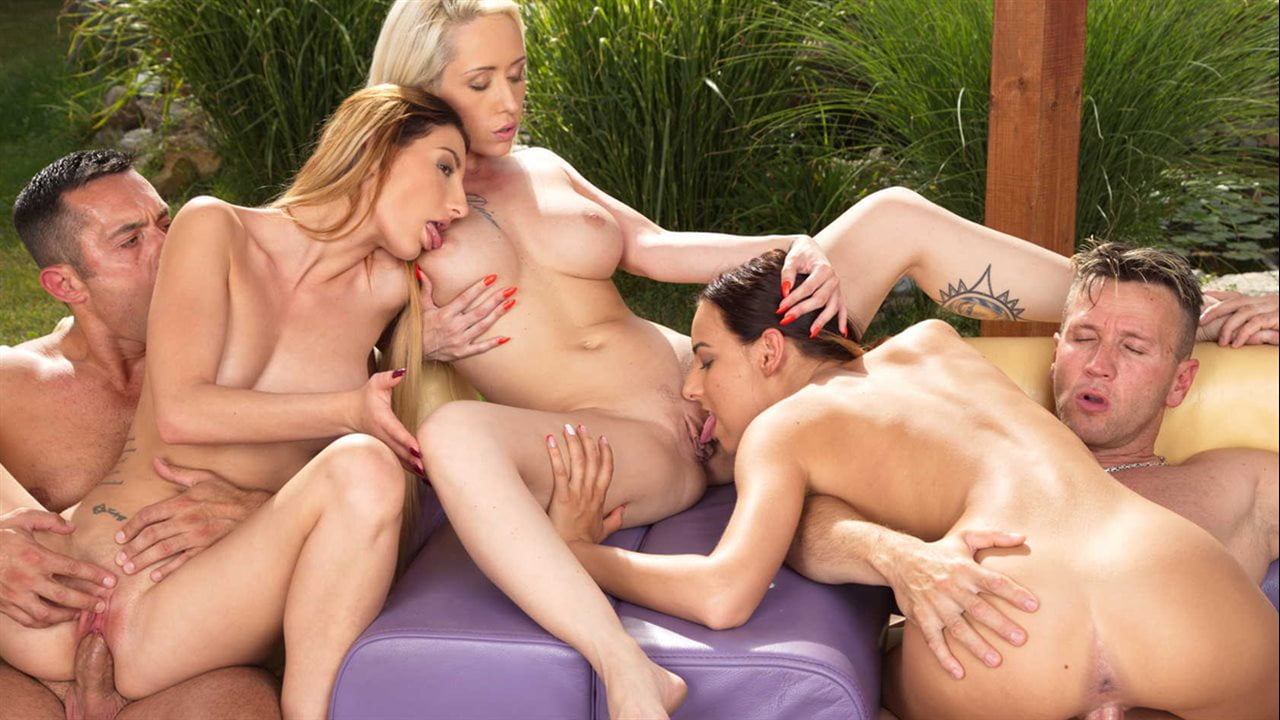 We were out for a drive when we hit a roadblock: three girls in tied-off white t-shirts and denim cutoffs insisting our car was too dirty. They said they were washing cars, but they had no buckets, water, or sponges – just big tits, tight stomachs, and ass cheeks hanging out of their shorts. The girls – naughty Maya Crush, flirty Cayenne Hot, and busty Christina Shine – agreed to come over to wash the car, and even said they would wash it with their tits for a little bit extra. They showed up later for some wet and wild fun while they cleaned the car… then shy Cayenne polished a very dirty shift stick with her mouth. Christina watched while Maya let herself get fucked across the hood of the car, then we returned the favour by worshipping their pussies and giving them a good fucking as a tip for all their hard work. They cleaned our car spotless and didn't mind that we left them with jizz all over their sexy asses!
Voluptuous French girl Liza is visiting Barcelona, and her sexy friend Amirah has a present for her: a petite, super-shy brunette by the name of Apolonia! These raunchy lesbians take off Amirah's clothes to play with her tits, then they oil her up, spank her ass, and finger her pretty pussy. Apolonia moans around these ladies' fingers and they share her juices. Naughty Liza wants to thank Amirah for being so generous, so the girls lay her down and worship her pussy. Then it's Liza's turn to have Amirah and Apolonia get her off while she moans in French. But another surprise comes along for the girls to fight over: a big cock and balls they're all desperate to taste. The girls take turns riding that dick, sucking those balls, and licking each other's cum off the dick. Liza gets nasty with the other girls to make sure they get the proper fucking they deserve for being such good hosts, and afterward she lets them eat jizz off her stomach and tits as a thank you.
Jordi is hanging out with his friend in a park and having fun taking sneaky photos of sexy women. First, he sees Claudia Bavel sunbathing in the park and snaps shots of her tits. She catches him, but Jordi runs away before she has time to confront him! Then, he spots Irina Vega and Gala Brown and zooms in to snap pics of their asses! He gets caught again, but this time Claudia catches up to them and joins Irina and Gala as they all gang up on him! They want to teach him a lesson and snap pics of Jordi as they have their way with him in public! Then, they drags him to an abandoned warehouse where they strips him naked and discover his huge cock! The three horny sluts then take turns sucking his big cock before they give him a punish fuck he's not about to forget!