Alexa Nicole has been modeling nude since she could remember. With perfect 32 DD boobs, her sexy poses will kick your dick into overdrive. This sexy brunette's first and only appearance on Reality Kings Network came on StreetBlowJobs titled "The Ins And Outs" in 2009. She taught us what a real blowjob feels like. Catch her showing on Reality Kings, where this cute latina strokes a cock up and down until it explodes.
Latest updates featuring Aleksa Nicole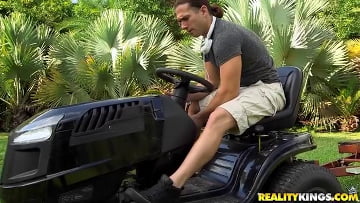 11th November
- Tarzan was mowing the grass when his tractor broke down. Seeing no way to fix the problem, he decided to relax and wait for the boss lady to arrive. A
leksa showed up soon enough and was overwhelmed by the amount of work that needed to be done before she could show the house that afternoon. To top it all off, she saw the stalled out tractor, and Tarzan just sitting there. Aleksa went off on him. But seeing her huge rack and luscious ass puts him at ease, and he smoothly calmed her down. He half-jokingly hit on Aleksa, and in her distraught state, she was extremely receptive to his advances. They went back to the house where Aleska begged for her tits and face to be fucked. Tarzan happily obliged and continued to pound her pussy until he covered her pretty face and gorgeous tits in cum.
...Read More