Latest updates featuring Evita Pozzi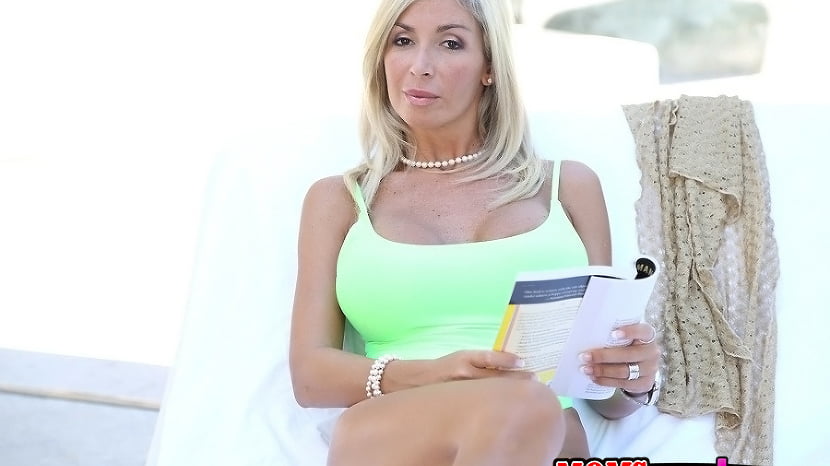 Michael and his girlfriend, Chastity, were hanging out as she was doing her homework. Michael got bored and decided to go sit out by the pool. Chastitys step mom, Evita, was out there in her bikini. Michael got in the pool and Evita joined him. She explained to him how her husband was always busy and did not take care of her. She told Michael that she loved younger men and grabbed his cock. She began playing with his cock as she pulled out her giant jugs. She stuck his face in her big tits. She took him back to her bedroom and began sucking his dick. She sat her pussy on his face as he licked it. Chastity came looking for him and found them in her bedroom. She was mad that her step mom did not ask before she could fuck her boyfriend, but she was also very horny and joined in on the fun. They took turns getting their pussies pounded. Chastity got her asshole drilled and got man juice all over her.


Danny is going on vacation to Italy but before he goes, he wants to learn the Italian language. Danny has heard Italy is known for their good food, beautiful cities, and grade-A sexy women. Through a newspaper advertisement, he finds Evita, a sexy blond European MILF who will teach him Italian. She ends up showing Danny a preview of the naughty side of what Italy has to offer.
The Eighth Wonder World, Kelly's mega sized mammaries hypnotize Evita and Liza. These foreigners fall in love with America after they mount their Italian and French wet pussies on a throbbing huge dick. All of the girls faces get blasted by the first big load. Kelly takes another pounding then gets her tits drenched by Ryan's second re...