Latest updates featuring Mary Moody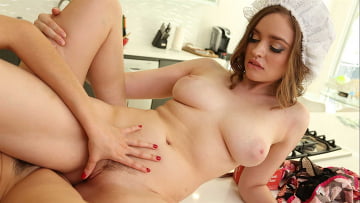 16th January
- Melissa Moore is baking cupcakes for her sorority bake sale when Mary Moody comes to show her the skimpy outfit she's planning on wearing to help boos
t sales. When Mary sees that Melissa is only wearing underwear under her apron, she offers to help her out, but she has no intention to actually bake. She makes her intentions known by slapping Melissa's ass, leaving a nice flour handprint! Then, Mary bends over and teases her tight juicy pussy to her sorority sister! When Melissa asks Mary for help decorating the cupcakes, Mary does exactly as instructed, but decorates her tits instead of the baked goods! Of course, Melissa can't help but wrap her luscious lips around Mary's nipple as she gets a taste of the whipped cream! Then, it's Melissa's turn to offer something yummy for Mary to lick: her dripping wet pussy! While the cupcakes are baking in the oven, the two slutty sorority sisters take turns fucking each other on the kitchen counter!
...Read More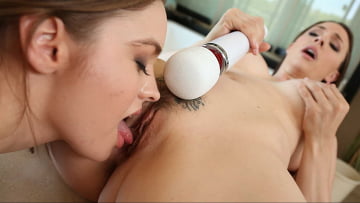 17th October
- Chanel needs to use the bathroom, but Mary, her stepdaughter, is already in there getting ready and she's taking forever! Mary is determined to take h
er sweet time, especially when she discovers her stepmom's vibrator and decides to try it out! Meanwhile, Chanel is growing impatient… When she hears the sound of her vibrating toy, she barges into the bathroom and catches Mary masturbating! How dare she use her toy?! That's when Chanel decides to teach her naughty stepdaughter a dirty lesson and shows her how to properly use the vibrator! Soon, the two horny sluts are licking each other's nipples and the toy is suddenly not be enough to satisfy them… That when they take turn licking and fucking each other's dripping wet pussies!
...Read More
>> CLICK HERE TO DOWNLOAD <<
27th March
- Welcome to The Sessions, a sexy series that allows you into one of the most intimate spaces known to man—the therapist's office. Be a fly on the wall
as patients and practitioners explore their sexuality. Each episode features a different therapist, patient, and a whole new set of sexual boundaries being crossed.
...Read More
10th October
- Mary Moody deals with a lot of demanding milfs at her salon job, but Phoenix is no ordinary milf. She's got money to spend and a pussy that needs lick
ing! Once Mary is done pampering Phoenix's feet the older woman flashes some cash for some extra attention. Mary's never eaten pussy before, but she needs that money! Turns out she's a natural...
...Read More