Meet sexy Violet Raye! She's absolutely kinky and you will definitely fall in lust with this sexy nympho. She's got long dark hair, light blue eyes, and some amazing tits. This lusty babe has got some major curves as well! One of her sexual fantasies is getting fucked by a 10 inch cock in her tight little twat. You know you wish your hotdog could be in her warm buns! She's a babe thats already moist and you'll be happy to know you can view her anytime on Reality Kings Network!
Latest updates featuring Violet Raye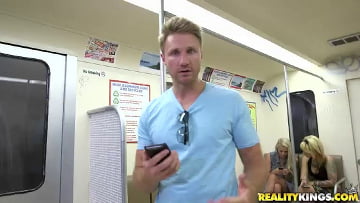 7th July
- Levi got an email from a friend of Sean's. Her name was Violet, and she wanted to meet on a certain train at a specific time, but we had no other info
about her. Levi reached out to Sean to make sure this lady was somebody we wanted to meet. We scoped out a couple girls, but we were pushed off like unwanted luggage when this mysterious vixen came into our train car. We eyed her, and she eyed us. Then Violet came over and broke the ice. She wanted to fuck on the train and was completely turned on. Violet was a wild one and didn't give a fuck who was around. All but one person had to be persuaded with some cash to leave the car. As soon as we were alone, Violet was bent over, and Levi was hitting her caboose. It was amazingly crazy how these two just went at it right there on the train.
...Read More