Latest Updates from '8th Street Latinas' at Reality Kings (Page 2)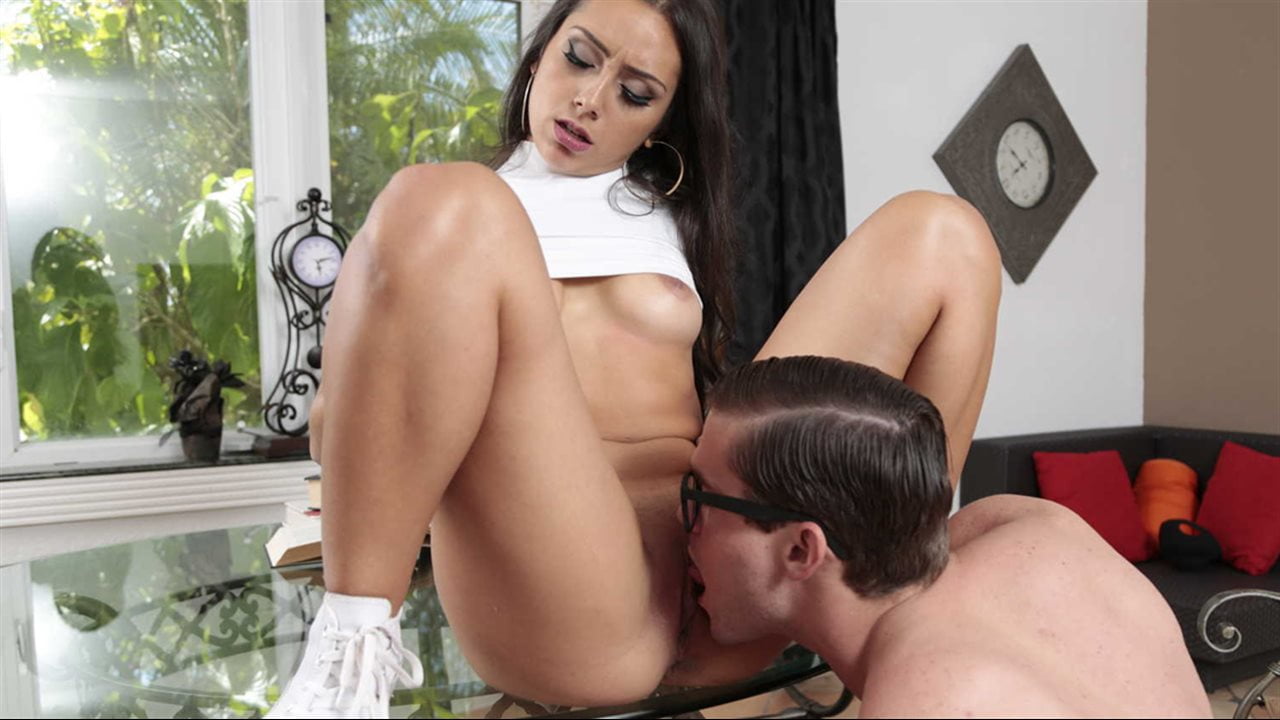 Luscious Latina Lilly Hall has one last chance to save her grade in Business Administration college course. Which is why her papi hired a helping hand for her, a tutor who's going to come over and help her write her final essay. Only, Lilly is so bored, she can barely keep her eyes on the books, no matter how hard tutor Rob Carpenter tries to keep her focused on the task at hand. When this horny hottie rather be sucking cock than writing the essay she's supposed to, Mr. Carpenter must decide if his job is worth losing over getting to stick his big dick between Lilly's dripping wet pussy lips! Then again, who can resist the Latina charm of Lilly Hall as she straddles her tutor and flashes her sweet perky tits for him to pull and suck on! Lilly gets Rob to write her essay for her, with a little lesson plan of her own: first she teaches him some dirty words in Spanish, then she teaches him how to "dame más duro"! But will getting the dicking she's been craving help Lilly Hall finally improve her grades, or will another lesson in Spanish dirty talk--and more fucking--be required?
Johnny Castle is hanging on the beach with his buddy when they spot Shay Evans sun bathing in a sexy yellow bikini. Johnny tells his buddy that, based on his experience, if a girl is wearing a yellow bikini, it usually means she's down to fuck! With this information in mind, they approach the hot Puerto Rican. They tell her they're doing a documentary and offer to give her some money if she lets them film her. The hot Latina agrees and tells them more about herself while Johnny rubs oil on her tight body. Then, Shay runs on the beach, making her big tits bounce for the camera! Once they get in Johnny's car, they offer to give Shay more money if she flashes her tits and sucks Johnny's cock! Turns out the bikini babe is a horny slut because she accepts the money and puts her cock-sucking lips to good use! Then, they go back to Johnny's place where he licks and pounds her dripping wet pussy!
I spotted this slender dark-haired Latina beauty, Jasmine Vega, waiting for the bus in nothing a but shorts and a bikini top. She was angry that I approached her at first, but only because her boyfriend had ditched her day at the beach to go drinking with some buddies and now she was trying to catch up. I offered her a ride (no ulterior motives, I promise) and she accepted, thinking it would make her boyfriend jealous. We went to my place to grab the car, but naughty Jasmine wanted to take an extra long time to fuel her boyfriend's suspicions… so she dropped her bikini top, showed me her pretty pert titties, and then sat her sexy pussy down on my face. I licked her slit and then she rode my cock, then we decided it would make her boyfriend really jealous if we showed him what she looked like with my great big cumload on her face!