Latest Updates from 'Moms Bang Teens' at Reality Kings (Page 2)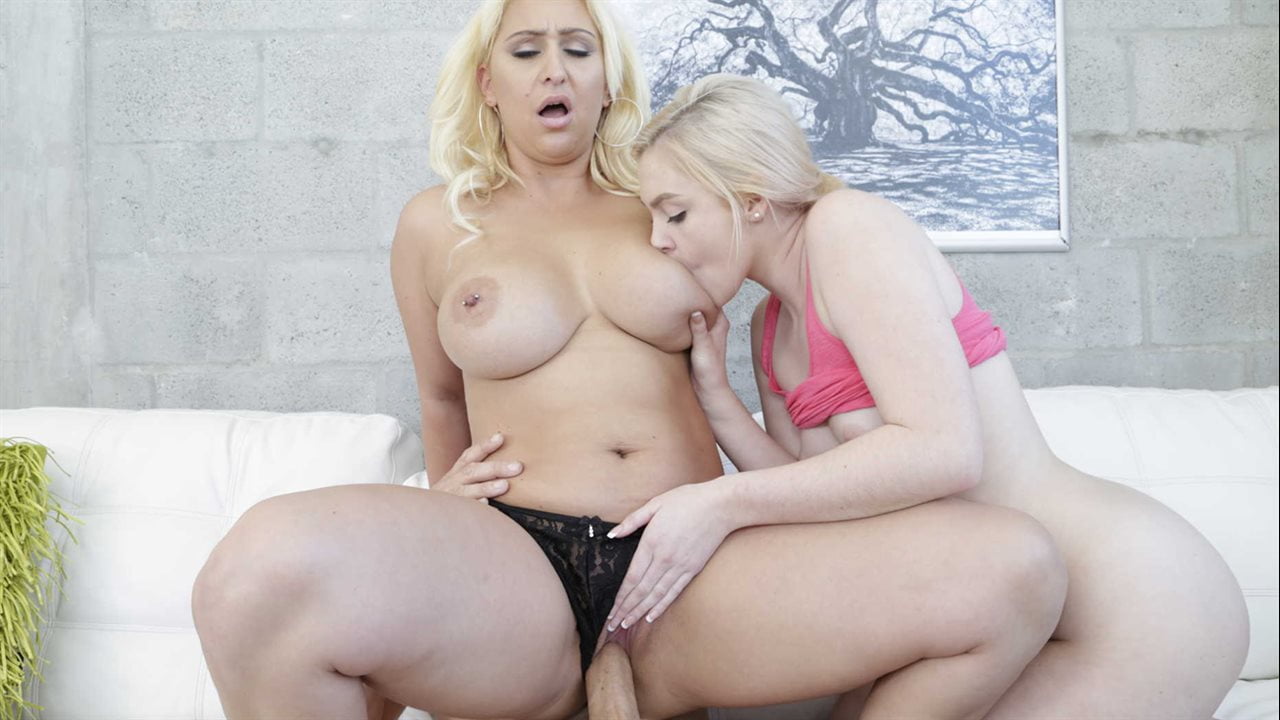 Blonde MILF Nina is tired of picking up after her stepdaughter...until the day she finds a massive dildo! Nina can't believe the tiny teen would even know what to do with such a huge cock, but Eva and her boyfriend Sean confidently assure Nina that she can handle it. To prove it, Sean unzips his pants and shows Nina that his own dick is every bit as massive! The hot cougar can't wait to take a turn with it, telling Eva she'll show her the ropes as she sucks Sean's cock and gives him a view of her huge tits that he's been dreaming about. Eva refuses to be left out, grabbing her boyfriend's meat and deepthroating it before taking a deep pussy pounding. After sharing Sean's dick and his huge load, the stepmom and stepdaughter are getting along better than ever!
Kenzie Taylor and her new husband are getting ready to go off on their first trip together as a couple. Their bags are packed and the taxi's outside waiting for them to take off. Van Wylde's dad makes one last reminder to Van: no disturbances, no parties, and above all--no sex! Good thing Van's girlfriend Sofi Ryan looks as sweet and innocent as she does--because these two horny teens can't wait for the old folks to get the fuck out so that they can start banging! The beautiful and busy Sofi strips off her clothes as Van slides her towards his big cock, ready for them to lose their virginity together. Only Van's struggling to get his dick inside of Sofi's dripping wet pussy lips. If only these two horny teens had some help! Luckily for Sofi, Van's stepmother returns and catches them on the couch butt naked! Shocked that Van and Sofi are virgins, Kenzie decides to help them with their sexual inexperience as she gets in on the action! Lucky for Van, he gets to pop Sofi's cherry and fuck his brand new stepmom all in one shot! But will he ruin his father's vacation in the process?
What do you get when you put dirty windows, water, a ladder, and two teens in a room? A perfect opportunity to flirt and catch glimpses down a tight blouse to see some perky teen tits! But what happens when that teen's stepmom wanders in and sets her eyes on the innocent boy in her house? And boy, what a MILF she is… Parker saunters in and begins taking control of Brad like he was her personal plaything. She sends naïve Molly off and gets to work running her hands over Brad's body, tempting him with her ample bust, confident attitude, and sexy twang. And when Molly returns in shock, Ms. Swayze takes it in stride, ordering the two teens to follow and learn from her commands. This is how you suck cock properly! This is how you worship teen pussy! Soon, cleaning the windows is all forgotten amidst the moaning dirty talk of a dominant MILF instructing, teaching, and enjoying this inexperienced teen couple. At the end of the day, Brad gets to enjoy a lithe teen, and curvy MILF, and doesn't even have to clean the windows!